In order to encourage young professionals in agencies to take a stance on different issues, to ensure a continual presence of emerging leaders in the industry, and to attract new talent, the A2C created the "Young Leaders Committee".
2015-2016 Members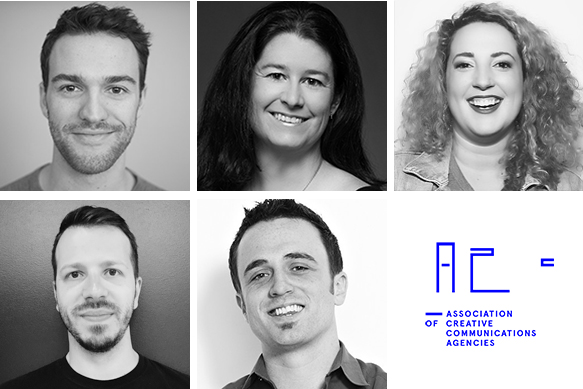 First row, from left to right: Guillaume Dubois, Producer, 1One ; Geneviève Guay, Vice President, Managing Director, AMNET and Head of Global Media Partnerships, Dentsu Aegis Network and Stéphanie Lebon, Marketing Communication Consultant, Havas Canada.

Second row, from left to right: Mathieu Bouillon, Copywriter, Sid Lee and David Legendre, Group Director, lg2.
Criteria
Encourage professionals who are 35 or under to take a stance on different issues that could affect the industry's status quo and way of doing things.
Make sure young leaders are represented in different committees, both in the industry and at the A2C.
Support the A2C's various initiatives in order to reach out to students and encourage them to join our industry.
Commercial break
A series of video vignettes produced by the A2C's Young Leaders committee explores various themes, some controversial, that relate to the MarCom industry.
The Young Leaders try to debunk with humour three myths surrounding advertising agencies.
For Open House Day, three professionals with various backgrounds discuss the realities of working in an agency.
The Young Leaders share their experience and new industry trends during their visit to South by Southwest Interactive 2016, in Austin, Texas.
Three members of the Quebec delegation share their experience :

Dominique Villeneuve, General Manager of A2C, Louis Duchesne, Executive Vice President and General Manager of Cossette (Quebec) and Jean-François Bouchard, CEO and Senior Partner of Sid Lee.
​
​
A2C's Young Leaders took advantage of their passage at C2 Montreal to speak with different professionals in the marketing communications industry about diversity in all its forms.
Past projects
Discover the committee's past projects:
Video vignette "8 h 55": the client-agency relationship
Produced in collaboration with Infopresse, this video presents the results of the committee's discussions on the tough challenges that affect the marketing communications industry in Quebec.
Gala 109
Members of the committee shared the challenges and successes they encountered when they first set foot in the professional world. They also provide students with an opportunity to network.
Close