Le monde de la comm. is a series of virtual conferences aimed at helping people discover the various professions in the field of creative communication.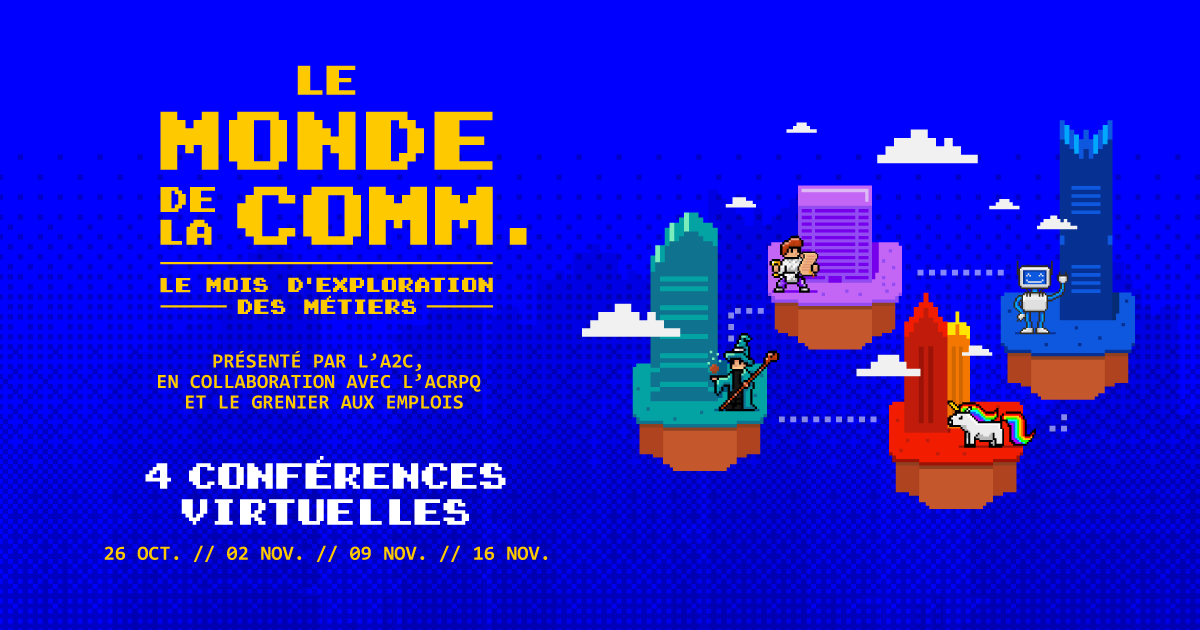 This week of exploration will allow you to explore the discipline(s) of your choice, according to your curiosity and personal interests and, who knows, find the career of your dreams!
Format
These one-hour online conferences each focus on a discipline of creative communication.
They will begin with a presentation on a concrete project by three professionals, and will be followed by a panel to discuss their background and vision, followed by a question and answer period from the participants.
Who is this activity for
High school (secondary 4 and 5), college and university students who wish to learn more about careers related to advertising, marketing communications, advertising production, digital, design and public relations.
2021 Edition
Le monde de la comm. was held every Tuesday from October 26 to November 16. Four free virtual conferences were offered to demystify this industry.
THE WORLD OF TECHNOLOGY
Passionate about digital in all its forms, they are working to create a more connected world of human-scale experiences. Their technical knowledge is one of their main assets.
Technical Director
Front End Developer
Creative Technologist
THE WORLD OF CREATION
Inventive and artistic, they know how to take advantage of every medium to get a message across. They like to think outside the box and come up with ideas, no matter how bold.
Creative Director
Copywriter
Graphic and Motion Designer
THE WORLD OF STRATEGY AND MEDIA
Great analysts, they like to find solutions to a problem and take on stimulating challenges. They will do everything in their power to maximize the impact of their initiatives.
Strategist
Media Planner
Analyst
THE WORLD OF CONNECTIONS
Natural leaders, they connect people, are organized and have great listening skills that facilitate teamwork:
Advertising/PR Consultant

Content Marketing Specialist
2020 EDITION
Don't hesitate to listen and share with your friends/colleagues the virtual conferences held during the 1st edition of the activity, from October 26 to November 4, 2020.
CLIENT LEADERSHIP
For those who enjoy building relationships and rallying people around creative concepts and ideas:
Coordinator
Account Executive
Account Director
VP, client services, etc.
CREATIVE
For those who successfully convey messages in an ingenious and innovative manner:
Copywriter
Art Director
Event Planner
Creative Director, etc.
CRAFT/PRODUCTION
For those who masterfully manipulate images and sound to leverage emotion and connect with their audience:
Producer;
Director;
Composer;
Editor, etc.
DESIGN
For those who use aesthetics to enhance functionality and facilitate interactions :
Infographist;
Illustrator;
Graphic Designer;
Artistic Director, etc.
STRATEGIC PLANNING/RESEARCH
For those who enjoy effective problem solving :
Researcher;
Strategic Planner/Account Planner;
Consumer Insight/Research Director;
Head of Planning, etc.
PUBLIC RELATIONS
For those who are masters at finding solutions while demonstrating influence and tact :
Communication Agent;
Account Executive;
Project Manager;
Press Officer, etc.
MEDIA PLANNING AND BUYING
For those who juggle with data in order to reach as many consumers as possible :
Media Buyer;
Media Planner/Media Strategist;
Media Account Manager;
Media Analyst, etc.
DIGITAL/CONTENT
For t
hose who are passionate
about emerging
technologies and sharing experiences
:
Developer;
UX Designer;
Content Manager;
Strategist;
SEO Specialist, etc.
Watch