We are pleased to announce several promotions within our organization !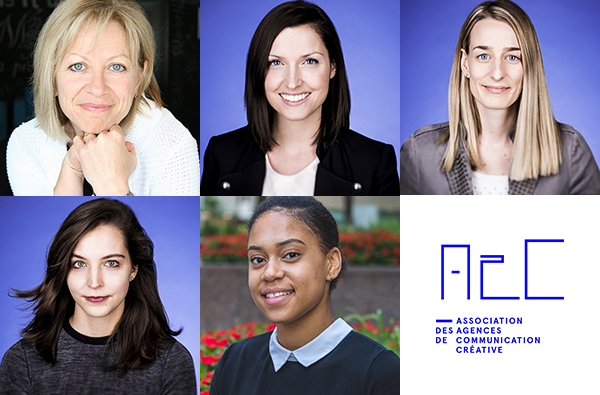 First, Joanne Nantel has been appointed Acting President and CEO to replace Dominique Villeneuve. Ms. Villeneuve will be on maternity leave starting on December 22 and will return in September 2018. Romy Bezile-Maguire has been promoted to Director of Marketing Communications and Mireille Forest will become the Member Services and Special Projects Manager. Furthermore, Loïza Luperon will be joining the team as a part-time Coordination Assistant. Finally, Isabel Poirier, Corporate Affairs Advisor, will be resuming her duties in January after a maternity leave.
Joanne Nantel has an in-depth knowledge of the industry thanks to a vast experience in communications agencies – PNMD (BBDO), Académie Ogilvy (Ogilvy & Mathers), and Cossette. Since 2014, she has been a marketing and strategic planning consultant for various clients. In addition to her practical experience in the advertising industry, she also has a background in accounting and finances and was part of the marketing teams at Catelli and, more recently, Kombi Sports Inc.
Romy Belzile-Maguire has been with the A2C for four years. She has worked on several major projects for the Association such as the Agency Selection Guide, the A2C's repositioning, the Leaders' Summit, and the Hall of Fame. Her new role as Director will allow her to expand the Association's outreach activities and manage new responsibilities related to relationships with partners.
As the Coordinator for Member Services for more than five years with the Association, Mireille Forest has an exhaustive knowledge of the organization's members. Her promotion reaffirms her key role for members and customer service, and formalizes her significant involvement in the Association's special projects.
Loïza Luperon graduated with a bachelor's degree in marketing from UQAM and is the media VP for the Much Marketing event. She joins the A2C team to oversee the daily monitoring of requests for proposals and provide administrative support to the communications team.
Finally, Isabel Poirier, Corporate Affairs Advisor, will return from her maternity leave in January 2018 to once again oversee advocacy issues such as the agency selection process consultancy, negotiations, and interpretation of collective agreements with the UDA along with tax credits and grants improvement.